Hello and Welcome to the Bot Instructions, on this page you will be familiarized with all the functions of our project. Everything is made to be user friendly for all the users.

First step
The first thing you should do is write a link of the channel. The link type must be written as in the example. @testing is not allowed!
When ordering views, you can get those on open and closed channels.
Open
- can be used without restrictions ( Bot doesn't need to be on the channel )
Private
- our bots must be in the channel ( Add the bot to admin )
You can order them on our website.

Second step
In the views field, we select the desired amount of views. As soon as the post has the right amount, the promotion stops. The bot counts the live views also includes live views from the channel.

Third step
In this field, we select the required number of days for the bot to be working. The more days you take, the cheaper the price will be.

Forth step
Startup time
- task start time( choose when the bot starts ). If you leave the checkbox on NOW, the task will start inmediately.
And if you remove it, then you will need to select the start time for views:

Fifth step
Non working hours
- makes it possible to slow down at night. For example, according to the standard numbers, the speed is 1000 views per hour, but during the night, the speed becomes 200 per hour. And in these fields, you must set the desired time and speed.

Sixth step
Slow Mo
is a unique mode in telegram promotion.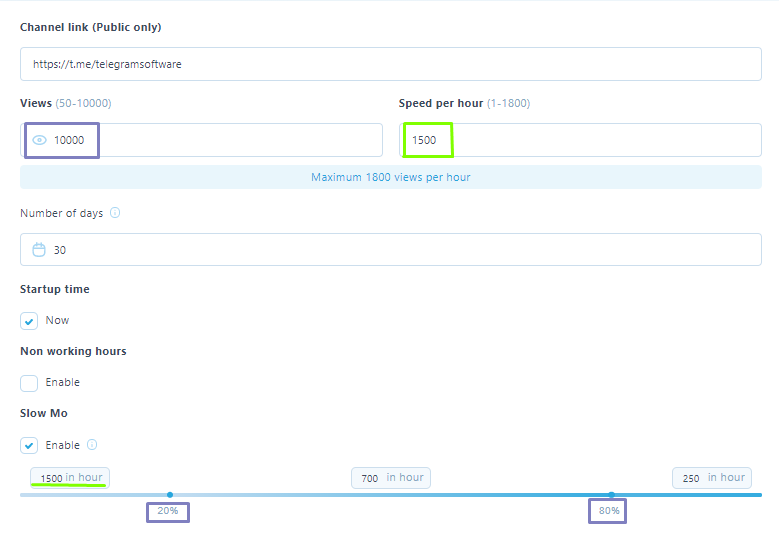 Seventh step
On the bottom bar, you can make smooth views and automation on your posts.

For example, you posted a post to the channel. In our panel the are settings for 10.000 views, speed set to 1500 per hour. The first box shows the speed per hour, equal to the original speed you entered at the very beginning.

And under it there is a slider at 20%. It calculates the percentage of the total number of views indicated at the very beginning.

That is, the first (20% = 2.000 views) - the speed is 1500 / hour, then from 2000-8000 it goes at a speed of 700 / hour, and from 80 to 100% it goes about 250 / hour.
You can change all the speeds and percentages by yourself!
Slow Mode works the same way in subscribers!